IPiece Websites presents versatile web design for online business.
When it comes to web design, versatility is essential. Each client has a unique vision and purpose for creating a website, requiring various combinations of design and features. It's up to web designers to comprehend and realize our clients' ideas.
IPiece has the web design capabilities to create and maintain an enormous variety of websites. As seen on our web design portfolio, our clients range from restaurants to construction companies, personal blogs to manufacturers. IPiece Websites include shopping carts for e–commerce and stunning interactive photo galleries, all in a sophisticated design.
Our latest design for AggielandGreen.com includes a number of vital business website features. As a lawn care company, Aggieland Green needed eye–catching, professional web design to display their past projects. IPiece implemented a slideshow on their home page, as well as an easily navigable menu and Featured News section. The website also includes a Customer Login for existing clients.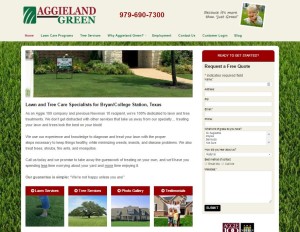 As websites are so often the face of a company, professional website design is a crucial element to successful business. IPiece Websites have helped hundreds of companies build their business with new websites. Among our clients you'll find hundreds of local Colorado Springs businesses as well as nationally acclaimed companies. To discuss how we can improve upon an existing site or build a brand new web design for your company, contact IPiece Websites today.