Google Fiber acquires high–speed internet provider Webpass
Google Fiber recently announced the purchase of internet service provider Webpass.  Up until now an independant internet company, Webpass offers high–speed internet connections up to 1Gbps. The company serves "tens of thousands" of residential and commercial clients across the Bay Area, Chicago, Boston, San Diego and Miami.
Charles Barr, President of Webpass, announced the deal with Google Fiber in the Webpass blog:
Google Fiber and Webpass share a commitment to creating fast, abundant Internet connectivity in the U.S. By joining forces, we can accelerate the deployment of superfast Internet connections for customers across the U.S. Webpass will remain focused on rapid deployment of high speed Internet connections for residential and commercial buildings, primarily using point to point wireless.
The "point to point wireless" service is exactly what will assist Google Fiber in its urban expansion. The process involves wirelessly transmitting internet to a building's antenna, then utilizing internal data cables to deliver internet within the complex. This wireless internet strategy will allow Google Fiber to sidestep the legal and logistic complications of installing fiber optic cables in urban areas.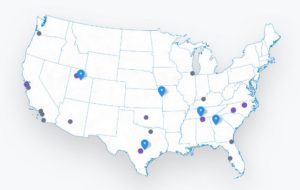 Google Fiber already exists in major cities such as Austin, Nashville and Atlanta, with upcoming cities including Dallas, Chicago and Los Angeles. While Google Fiber's original approach involved forging high–speed internet connections with new cable installations, the acquisition of Webpass shows a shift in the company's internet expansion strategy. Wireless internet, already being tested by Google in Kansas City, offers a low–cost solution to the widespread deployment of high–speed internet.
The Webpass purchase is part of Google Fiber's broader aspirations to compete with the nation's largest internet providers. One of the many challenges of breaking into the market is gaining territory among large residential and commercial complexes already tied major internet companies. As Recode's Mark Bergen notes, broadband giants such as Comcast and Time Warner Cable often maintain their footing in apartment buildings with multi–year contracts. Webpass has managed to gain a substantial base of such customers, now granting Google Fiber access to apartment buildings across the nation's largest cities.