How can portfolios improve content marketing?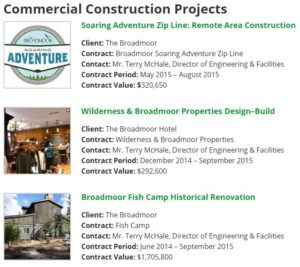 Effective content marketing presents a challenge for many small businesses. While large corporations create content to attract thousands of customers from just as many locations, small businesses have a different goal.
If your business serves a specific community, your content marketing goal shouldn't be to dominate the world–wide web, just the local web. As columnist Marcus Miller explains, that's why portfolio content is key.
In short, a portfolio showcases your product to your target audience. As a result, portfolios can improve SEO and build business credibility. Because small businesses attract customers by providing a great product and not necessarily a brand name, portfolios are a great way to how yours stands out from the rest.
Creating a Business Portfolio
When creating a portfolio for content marketing, make sure the information is as specific as possible. For instance, include photos and details about the finished product, as well as the location. This way potential customers in your area can see exactly the services and products you provide.
The key to good content marketing is informative yet brief portolio descriptions. For example, Miller gives several examples of portfolio content for a Birmingham residential contractor:
Renovation of skirting boards in a Victorian house in Boldmere, Sutton Coldfield, Birmingham
Repair of ceilings in 1970s semi-detached house in Walmley, Sutton Coldfield, Birmingham
Complete rewiring and electrical refit of a five-bedroom, three-story Victorian house in Boldmere, Sutton Coldfield, Birmingham
New heating system, radiators and pipework in five-bedroom, three-story Victorian house in Boldmere, Sutton Coldfield, Birmingham
One major advantage of a portfolio is SEO improvement. By including specific search terms, portfolio content marketing includes keywords that your landing pages might not have. For example, even if the above contractor's website doesn't dedicate a page to "electrical refit," the portfolio description provides an outlet for that specific keyword.
Quality Content Marketing and Credibility
But a strong portfolio not only offers useful information and improves SEO. Miller also argues that portfolios help to build credibility with new customers. Effective content marketing via portfolios will not only showcase a superior product, but a strong reputation as well.
All in all, says Miller, portfolio content marketing will "attract more local search engine users while simultaneously demonstrating your credibility for an SEO and marketing win-win."