Building stronger businesses with expert website design.
Quality business website design is essential to a company's success. Recognizing the value of a strong online presence, IPiece Websites provides web design for hundreds of businesses at the local and national level.
IPiece is excited to reveal our most recent business website design, AddStaffInc.com. Add Staff, Inc., Colorado Springs' leading staffing agency, is now equipped with a website that is both eye–catching and informative for job seekers, employers, and Add Staff employees.
IPiece creates business websites with attractive, easily navigable formats. We assist in organizing and creating website content to provide users with a positive experience each time they visit your site. As seen on AddStaffInc.com, our professional websites also include business credentials and social network icons.
With over twenty years of business in professional web design, IPiece Websites has in–depth experience building an effective online presence for small businesses. In addition to quality website design, IPiece provides a wide range of web services to help your business thrive. We offer expert online marketing and website consultation, search engine optimization (SEO), blog updates, social network implementation, as well as e–commerce web design.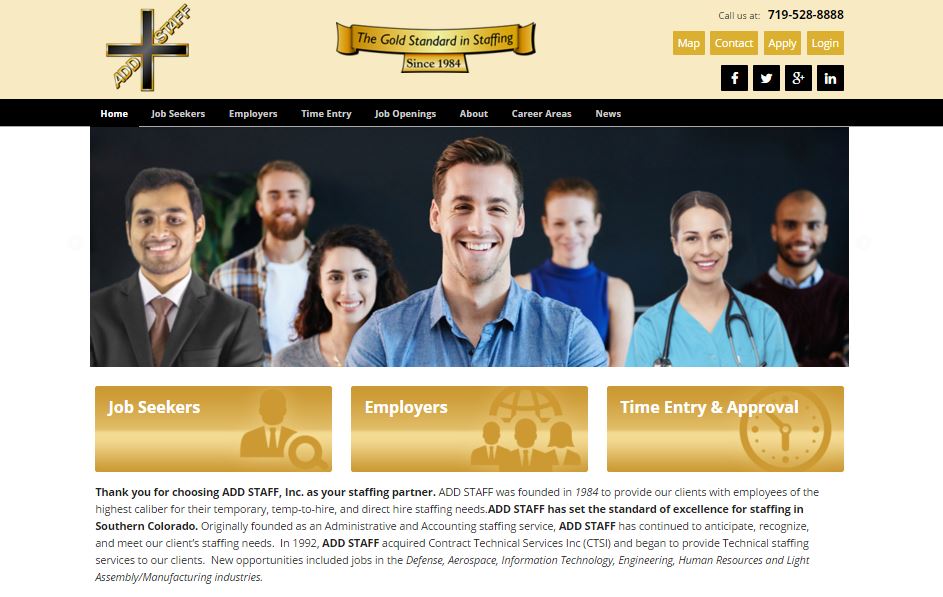 IPiece Websites is dedicated each of our client's prosperity. With excellence in business website design, we ensure each business reaches its full online potential. For further information, please contact IPiece Websites to see how we can help you build a stronger business.